The USGBC North Carolina announced the winners of its prestigious Sustainable Business Awards at their annual Green Gala at the Ritz Carlton in Charlotte, North Carolina.   The winners demonstrate exemplary commitment and success in creating a more sustainable future for North Carolina.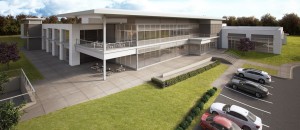 The Ingersoll Rand Building B Renovation project received the "Talking Walls Award" in the Small Commercial Category.  This award recognizes for-profit or non-profit 501(c) (3) projects that demonstrate the systematic integration of sustainability and/or LEED certification standards.
Building B is a 30 year old building updated to 2015 standards for office layout, efficiency in employee production and building systems, and environmentally friendly.  The building was designed as a "Living Showcase" for visitors and employees to see actual, fully-functioning air compressors, chillers, ice storage tanks, pumps, chiller lines, air handlers and many of the various Ingersoll Rand products.